NOV 3in1 Contact heat thermoformer with plug assist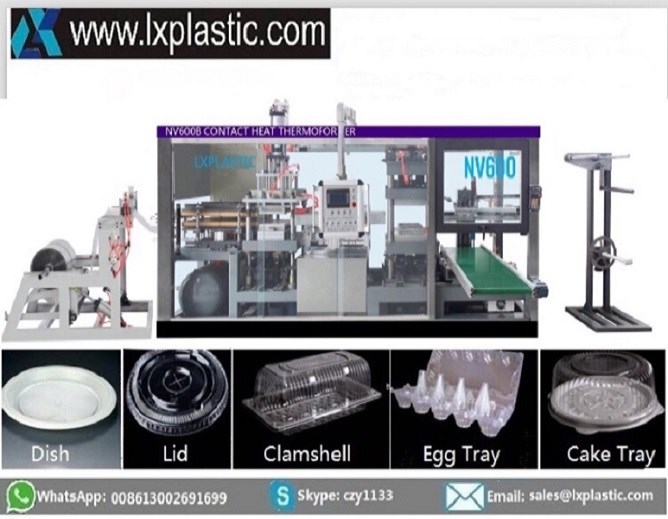 NOV 3in1 Contact heat thermoformer with plug assist
Description
Machine Video

:

:
NOVAMTG 3in1 Video : 1 , 2 ,3,4,5,6,7,8,9,10,11,12,13,14,15,16
Brief
Novamtg plug type thermoformer is a full automatic contact heat type thermoforming machine with plug assist for deep draw and heat plate for lowest power consumption of heating .it makes all kinds of disposable packaging like tray,lid,container, clamshell etc. in PET PS PVC etc. with form+trim+stack+(hole-hole-punch)
Design Feature
Plug assist for deep draw on contact heat forming process for PET PVC PS
Contact-heat minimizes power consumption for heating with only 8kw
Contact-heat results in even heating distribution on sheet for higher quality of product
Steel-rule-knife for trimming minimizing scrap rate between cuts
Servo pull index minimizing scrap rate compared to pin chain
Faster forming speed compared to normal contact heat thermoforming machine .
Faster Tool- -change lateral side of machine
Servo Index, Automatic Stacking and counting system
Accessing to all digitalized functions by pressing touch screen
Two modes of stacking system in one machine: Down-stacker /Robot Stacker
Lateral quick changing tools(moulds) from one side of machine
Hole-punch station for lateral hole is available
| | |
| --- | --- |
| MODEL | Novamtg 600B |
| Forming Area | 700mm *500mm |
| Depth of Draw | 90mm-120mm,(under sheet) 50mm (above sheet) |
| Suitable material | PS PVC PET PLA |
| Speed (Dry run) | 40 cycles/min |
| Material Thickness Range | 0.10mm - 1 mm |
| Sheet Width | 700mm maximum |
| Clamming force | 400KN |
| Material Roll Diameter | 800mm Max. |
| Power Supply | 3-N AC380V±15V ,50Hz |
| Power Consumption | 8Kilowatts/hr (Approximate) |
| Total Power | 28Kw |
| Air Pressure | 0.7Mpa |
| Air Consumption | ≥ 0.22 m3/h |
Send Inquiry
If you have any enquiry about quotation or cooperation,please feel free to email us at sales@lxplastic.com or use the following enquiry form. Our sales representative will contact you within 24 hours. Thank you for your interest in our products.
Subject:

*Name:

*E-mail:




Company Name:

Tel:

Fax:

Country:

Products:

Message:
Related Products